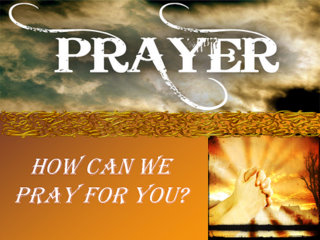 Calvary Chapel Inverness

There are several ways to contact us with your prayer request.
If You Need Prayer...
1. Fill out the prayer request form [online prayer request]

2. Please come forward after any one of our services and the pastor or elder will pray with you
3. Come to the church office during business hours.
4. Complete a Prayer card found at the desk in the foyer and drop it in the prayer request box.
5. Email us with your prayer requests[email link for prayer requests]

If you desire prayer and anointing for the sick, call the church office at 352-726-1480.
Our office will contact you to schedule a prayer time with you.


Acts 2:42,47
42 And they continued steadfastly in the apostles' doctrine and fellowship, in the breaking of bread, and in prayers.
47 praising God and having favor with all the people. And the Lord added to the church daily those who were being saved.


Let us therefore come boldly unto the throne of grace, that we may obtain mercy (compassion), and find grace to help in time of need. (Hebrews 4:16)
Do not worry about anything; but in every thing by prayer and supplication with thanksgiving let your requests be made known unto God. And the peace of God, which passes all understanding, shall keep your hearts and minds through Christ Jesus. (Philippians 4:6-7)

When you pray remember to tell God the things that you are thankful for this will take you into His presence where you can experience His peace.
Bear one another's burdens, and so fulfill the law of Christ. (Galatians 6:2)

We want to share your burden, we care about you and have compassion for your situation. We have people that will take your request before the Throne of God and pray for you. We expect results please let us know when you have received an answer and send us a praise report.